Timberland watches are known for their fashionable offerings that are on trend and manage to retain their signature styling cues that have made their products popular in the first place. Timberland watches have pulled off the neat trick of extending its catalogue to appeal to a wider audience, a poetic portrayal of rugged individualism, energy, and strength with style. An excellent pick for those who love to own ultra-masculine models, Timberland has become all-inclusive by introducing casual watches for both men and women.
Timberland watches are highly distinctive and particularly noticeable; they are also known for sharing space with various wristwatches perfect for ruling the urban scene. Inspired by the iconic signatures of the brand, Timberland casual watches now feature the latest trends drawing a great deal of attention from watch aficionados. That being said, here are the top 10 Timberland watches that you can check while exploring the urban circuit:
Timberland Warrick Analog Grey Watch
Ruling the urban scene means getting a watch that lends a distinctive appeal to your look, and the Warrick collection of Timberland watches can be an excellent pick for casual occasions. Gracefully adorned with a cowhide lash, the black-hued leather strap sits nicely on your wrist, flaunting the round grey dial.
Timberland Round Blue Men's Watch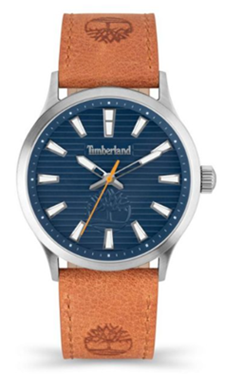 With an everlasting appeal and effortless blend of style and functionality, Timberland watches for men are a great pick for those with an eye for class and ingenuity. This classic watch features a breathtakingly blue dial with a cowhide lash wheat-hued strap to further amp up your style quotient. Moreover, this watch is supplemented with a buckle clasp to ensure a secure fit on the wrist.
Timberland Men Trumbull Round White Watch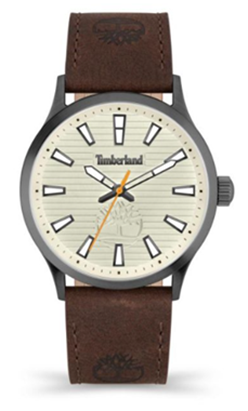 Presenting Timberland's Trumbull watch that is powered by a precision quartz movement. A striking white dial features the brand logo and is enriched with plain 3-hands; this analogue watch from Timberland is perfect for everyday casuals. An exclusive offering of Timberland watches, the Trumbull is water resistant up to 40 meters.
Timberland Men Tidemark Round Blue Watch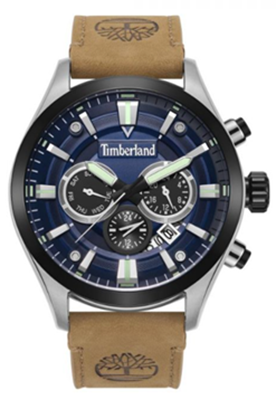 Crafted for the modern gentlemen, the Tidemark collection of Timberland watches offers sleek timepieces fit for all urban events. It is cast in a stainless-steel case, and the 46 mm blue round dial showcases a date aperture window and triple sub-dial display. The watch is mounted on a tan leather strap for the final finishing touches.
Timberland Men Sherbrook Round Silver Watch
Uncompromising on both style and function, the Sherbrook collection by Timberland watches features the signature cowhide lash on a blue-hued leather strap that ensures a great fit on the wrist. A dapper pick for any occasion, this Timberland analog watch flaunts a silver dial with a three-sub dial and is powered by a multifunctional quartz movement.
Timberland Men Northbridge Round Silver Watch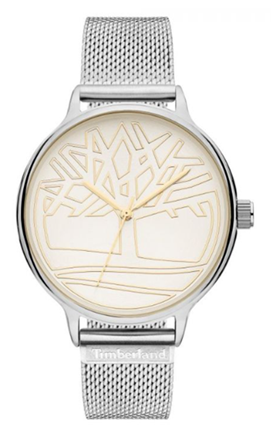 An accessory that goes with any style and accompanies you to every special occasion of your life, the Northbridge collection of Timberland watches is a divine wrist accessory. Adorned with the authentic Timberland logo on a silver dial, this elegant timepiece comes fitted with a stainless-steel strap that sits comfortably on your wrist while you execute your daily activities.
Timberland Men Tyringham Round Blue Watch
Channelising a beautiful expression of playful creativity in the form of a sleek timepiece, the Tyringham collection of Timberland watches utilises a brushed design on the elegant blue dial for a stunning effect. The stainless-steel case sits on a natural leather strap with ease. At the same time, the chronograph dial exudes simple, elevated markers, and the functional date window offers a final touch of delicacy.
Timberland Men Millway Round Black Watch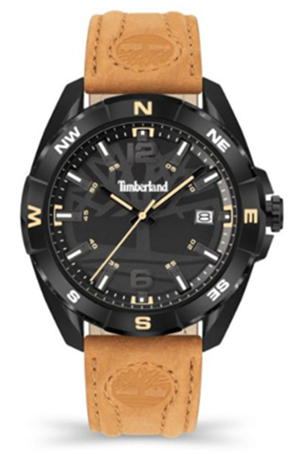 From the Millway collection, this classic Timberland is a reliable piece for dominating the urban scene. This sophisticated wristwatch features a stainless-steel case housing a 44 mm black round dial with a subtle representation of the iconic brand logo and plain three hands. The silhouette is finished off with a brown leather strap for a classic finish.
Timberland Men Millinocket Round Blue Watch
This sleek and stylish Millinocket watch truly reflects the understated aesthetic and cool look of Timberland watches. Nestled in a 44 mm case that frames a blue round dial, this opulent timepiece renders a minimalistic charm by featuring the brand logo on the dial. Accentuated with white tone hardware and plain three hands, the watch is completed with a brown leather strap and buckle clasp that sits comfortably on your wrist all day long.
Timberland Men Maybury Round Blue Watch
Carefully crafted, this robust Timberland watch is part of the iconic Maybury collection. A three-link stainless steel bracelet strap frames this sophisticated timepiece and houses the blue case and dial. At the heart of this watch is a chronograph movement that has been further accentuated with subtle branding, which ideally sets your everyday look.
With continually evolving timepieces, Timberland watches provide the most advanced functions in a compact profile and comfortable fit. If you are looking for a robust and reliable piece for your accessory wardrobe, check out this list comprising the best impactful timepieces from Timberland.