A successful business model isn't what it was a decade ago or even a few years back. If you are running a business and are still following some age-old model, you might lose out on the opportunity to grow. Top entrepreneurs often keep one eye on the future to constantly pursue innovation for the new era. 
Employees, customers and even marketing strategies have changed. If you do not catch the train to the latest trends, your business will become a thing of the past. To be in sync with a fast-paced world, top entrepreneurs need to be agile and innovative with their approach to things. Many Indian entrepreneurs' success stories have been possible because these top famous businessmen could adapt to disruptive times seamlessly and innovate in their businesses to take advantage of new opportunities.
As we move ahead in 2022, what agile, modern and innovative business trends should you know to stay one step ahead in the race? Famous entrepreneurs in India and the world seem to hold a consensus on a few common up-and-coming business trends that can revolutionise the world's face. Here are six of them: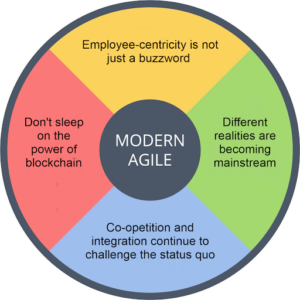 Don't sleep on the power of blockchain
Blockchain eliminates all intermediaries and allows transactions to be processed faster. It is worth the hype but hasn't touched the business market yet. Blockchain would revolutionise the financial aspect of business, and you should be ready for it. It is the next big thing because this technology helps improve security systems and reduce costs. Get it right, and you could be a part of the forecasted $67.4 billion blockchain market by 2026. 
One of the top financial visionaries and entrepreneurs in India, Sanjiv Bajaj – Chairman and Managing Director of Bajaj Finserv, has this to say about blockchain: "We are using blockchain technology to improve customer service." With blockchain, Bajaj Finserv has been a trendsetter in offering intelligent, personalised and streamlined financial services to millions across sectors like insurance.
Employee-centricity is not just a buzzword 
Happy employees are an investment. As we have turned a page and acclimatised to an era where remote work is prominent, top business leaders need to know how to keep their employees motivated. While a WFH employee saves a lot of resources for the company, you would still need a strong work ethic and a pleasant working environment to be productive and efficient. Remember, you need your employees more than they need you.
Different realities are becoming mainstream
With the rise in technology, top businesses can benefit from using virtual and augmented reality in favour of their businesses. VR and AR are simulated environments that can only be explored through certain technological aids. Thus, special VR/AR equipment is among the most promising technologies for the future. According to research, AR and VR-generated revenue is set to hit $72.8 billion in 2024. Top entrepreneurs like Anand Mahindra – Chairman, Mahindra Group – are big believers in the potential of AR/VR and the Metaverse. He believes "it's not just a make-believe world, it's also a place where we can explore solutions for making the real world a better place." Mahindra has also formally entered the Metaverse of late.
Co-opetition and integration continue to challenge the status quo
Co-opetition is a business strategy where competitors in a business niche form a strategic alliance that benefits both. Co-opetition and integration help your business to survive in an ever-changing market. Businesses in competition tend to work together to develop co-branded products, tackle a common issue, share R&D, or create mutually-beneficial schemes that profit from the power of combined customer bases.If you closely follow the moves of the top famous businessmen in your niche, you will see similar dimensions of development. A relevant example can be found in how various pharmaceutical rivals came together to develop adjuvanted COVID vaccines, such as GSK and Sanofi SA. 
Go sustainable or go home
As societies become more conscious of the environment, it is only wise to switch to sustainable power at your workplace. You should be able to sense the sentiments of your audience to excel. Sustainable energy is good for the earth or your company's image, finances and compliance in the long run. It also allows you to earn carbon credits. Amongst the famous businessmen taking the potential of renewable energy and power is Gautam Adani – the Founder of Adani Group. He's making the most of the opportunity and is committed to helping India achieve its climate goals and energy security. Adani Group has recently vowed to invest $70 billion in green energy and infra. 
Funding is changing its avatar to enable long-term growth 
You must know that finance has changed if you're updated with how the world works today. Gone are the days when businesses had to rely on banks to get 100% of their funding to start something great. Crowdfunding is a popular option today, very dynamic and safe as well. An increasingly popular option is SPACs (Special Purpose Acquisition Company). Special Purpose Acquisition Companies are alternatives to traditional private equity. They are more flexible and accessible, allowing small-scale investors to participate in the acquisition process, thus giving more power to the common man and the businesses.
Conclusion
Planning should be a core competency in your arsenal if you aspire to be the best business leader. That is how many great visionaries of our time have been able to build global business empires. 
A premeditated business path can make a big difference to your business any day. Every successful business owner knows how important trends are and how much you need to plan ahead. There is a reason they are called innovators and visionaries. The trends mentioned above will help you build an agile company that can respond to disruption at any moment and has a successful innovation pipeline. 
Remember, when you prepare for the future ahead of time, you set your business on the path toward progress. Make a difference today!
In the face of constant disruption, top entrepreneurs worldwide are always looking to add a layer of agility, modernity, and innovative capabilities to their organisations. That necessitates keeping up with the most relevant and suitable trends in business today, especially on the technology front, to future-proof one's business and leverage the scaling opportunities that disruption brings. This blog looks at six relevant business trends in 2022 that every aspiring entrepreneur should consider adopting to build an agile and innovative organisation.